These plaid or pleated skirts with matching blouses and ties are known as JK Uniforms. A JK uniform, which is worn in the summer months, usually includes a cute plaid or pleated skirt (normally high-waisted) and a short shirt with a bowtie that matches the skirt.
JK uniforms are commonly seen in Japanese comics and have become more and more popular to wear on a daily basis as a kawaii casual outfit.
What Is JK?
JK is the abbreviation of the Japanese word Joshi Koukousei (女子高中生) which means female high school student. The JK uniform is the uniform that Japanese girls must wear every day in school.
According to a survey conducted in Japan, JK uniforms have always been a favorite outfit among girls. After all, it is the one that accompanies them through the whole of adolescence, together with the sweet or bitter times. These Japanese female high school uniforms have become increasingly popular in recent years.
The Two Main Categories of JK Uniforms
The common JK uniforms are divided into two main categories: Sailor Fuku(セーラー) and Blazer-style uniforms (ブレザー).
The girl on the left is wearing a Blazer-style uniform, consisting of a jacket, a cardigan (or a vest), a blouse, a skirt, and a bowtie (or a lapel tie).
The uniform on the right is the Sailor Fuku, consisting of a Sailor Fuku top, a skirt, and a triangular scarf (or a bowtie, a collar tie)
Shopping for JK Uniforms, please click here to find more on our website.
School Uniforms in Japan
The uniform worn in Japanese junior and senior high schools traditionally consists of a military-style outfit for boys and a sailor outfit for girls. These uniforms are originally based on Meiji era formal military dress and were then modified with European-style naval uniforms in mind.
The JK uniform has always been a part of the Japanese "growing modern" culture. In Japan, it has long represented and symbolized the student years. And over time, JK uniforms have developed and diversified alongside Japanese culture.
Sailor Fuku
Sailor Fuku (セーラー服 sērā fuku, sailor outfit) is a common style of uniform worn by female students in junior high school, high school (at least traditionally), and occasionally elementary school.
Many people mistakenly believe that the JK uniform is the usual model of the Japanese senior high school uniform but, in fact, there are few senior high schools that use it as a uniform anymore. Instead, it is more commonly seen in junior high schools.
Origins
Sailor Fuku is the oldest uniform in Japan. It originated from British sailors when the British Navy dominated the world and many countries adopted their costumes.
Sailor Fuku was introduced as a school uniform in 1920 at Heian Jogakuin University (平安女学院) and in 1921 by the principal of Fukuoka Jo Gakuin University (福岡女学院), Elizabeth Lee. It was modeled after the uniform used by the British Royal Navy at the time, which Lee had experienced as an exchange student in the United Kingdom.
Influences from Sukeban Gangs
In the 1970s and '80s, Japanese schoolgirls from Sukeban gangs modified their uniforms by making skirts longer and shortening the tops as a protest against the sexual revolution and the sexualization of the Japanese schoolgirl uniforms.
Sukeban refers to a gang of rebellious girls who used their actions and fashion to protest against societal standards put on girls.
Blazer-Style
Origins
In the late 1980s, the phenomenon of students altering school uniforms became a headache from the school administration, so some schools simply abandoned the traditional sailor uniform and switched to Western-style uniforms.
This new style of school uniform was very popular because students found the look especially appealing. The shift improved the learning atmosphere and reduced the behavior of modifying school uniforms, so other schools followed suit and changed their uniforms as well.
As a result, the blazer-style uniform gradually replaced the traditional sailor uniforms in Japan.
Influences from Gyaru Fashion Style
Gyaru (ギャル, party girl), a Japanese transliteration of the English slang word GAL, is a Japanese fashion subculture. Gyaru is considered to be a nonconformist style rebelling against Japanese societal norms and notions of beauty at a time when women were expected to be housewives and to fit certain Asian beauty standards such as having pale skin and dark hair.
In the 1990s, the popular musician Namie Amuro (安室奈美惠) brought on the peak of the Gyaru fashion trend. At that time, a high school girl with long brown hair, dark skin, a mini skirt, and loose bubble socks was a common sighting on the Shibuya (涩谷) shopping street.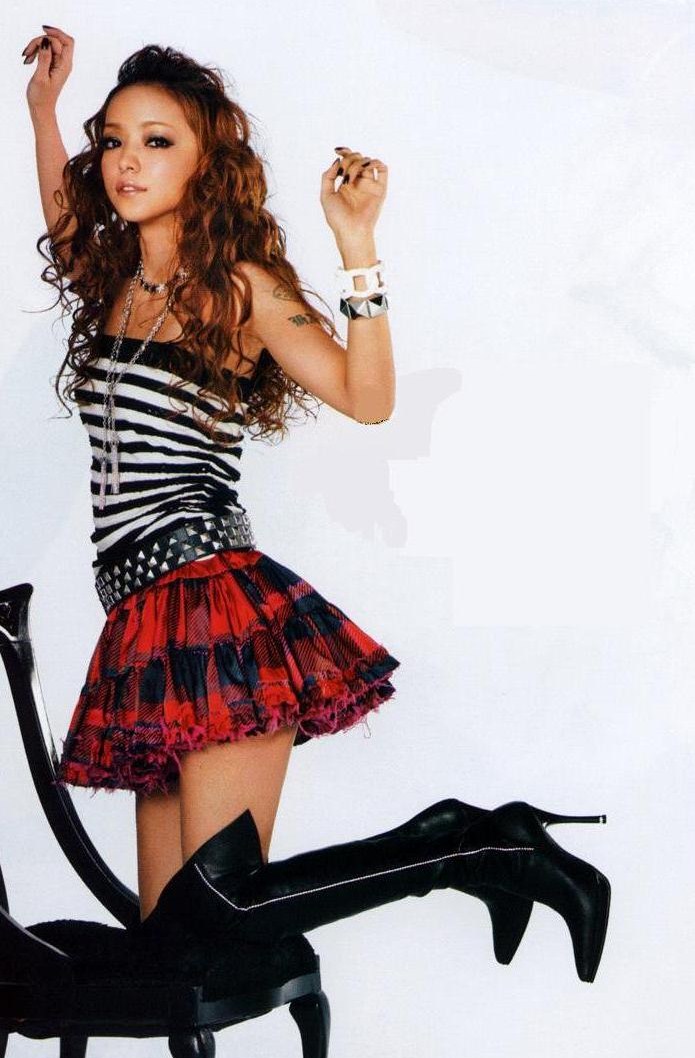 Later, the new Gyaru style with white skin and light blonde hair represented by singer Ayumi Hamasaki (浜崎あゆみ) became popular, and it also gained considerable popularity in other countries.
The Return of Straight Stockings
In Japan, only students with good grades are admitted to private schools. Therefore, the behavior of "wearing straight socks" has gradually become a representation of "good students," and bubble socks have gradually gone out of fashion.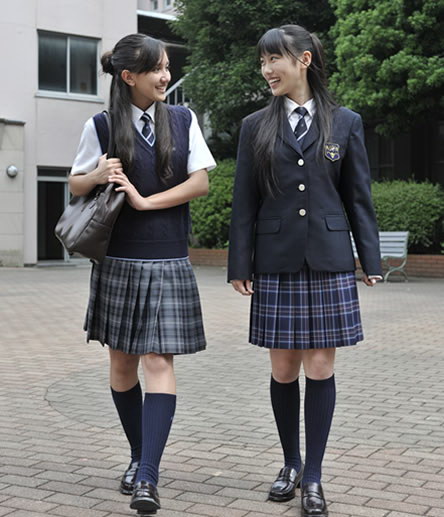 Schoolgirls began to wear knee-length skirts and straight stockings, meant to reflect a girl's demure, feminine, and pure side.
Styles of JK Uniforms
The development of JK uniforms is constantly changing alongside the national conditions and reforms of Japan. So far, the styles of JK uniforms have become more and more diverse over time.
Blazer-Style
The blazer-style uniform is now the most popular JK uniform. It is said that in the 90s, schools were desperately trying to improve the aesthetics of school uniforms for the sake of enrollment, so they sought out fashion designers to develop the uniforms. That is why the blazer-style uniforms are so fashionable.
The blazer-style JK uniform consists of a white blouse, a tie, a blazer or sweater vest with a school crest, and a skirt. The skirt is often a different color from the blazer or sweater vest.
The blazer-style uniform kit is relatively more complex than the sailor uniform; in addition to the basic matching of a blouse and a pleated skirt, there are also bow ties, neck scarves, knee-high socks, mid-thigh socks, short socks, uniform bags, shoulder bags, sports bags, uniform shoes, sports shoes, canvas shoes, and other accessories.
A pleated skirt has 16, 20, 24, 28, or 32 pleats, but 24 is the most common option. The colors are also divided into solid and plaid. Solid color skirts are mainly dark colors, while plaid skirts come with plaid patterns.
Sailor Outfits
Contemporary sailor suits have front closures with zippers or snaps and a more elaborate bodice. Nowadays, the uniform is shifting from one that is adorable and cute, and is meant to 'appeal to the boys,' to a uniform that girls like to wear for themselves.
Korean-Style
In Korea, a typical schoolgirl uniform includes a pleated skirt, long dress trousers, a white shirt with sleeves and a collar, a vest, a tie, and outerwear for the winter. The socks must be white.
Korean-style JK uniforms resemble blazer-style uniforms. They always match with sneakers instead of formal school shoes.
In general, Korean-style JK uniforms are more casual and tartan skirts are very common.
Thailand-Style
In Thailand, school uniforms are compulsory for all students with very few variations from the standard model throughout the public and private school systems, including colleges and universities.
The girls' uniform is complemented by white ankle socks and black school shoes. The student's name, number, and the name of the school are often embroidered on the blouse or shirt. Some independent and international schools have uniforms more closely resembling those of British schools, and boys in senior high school may be allowed to wear long trousers.
The dress code in primary and secondary grades for boys comprises dark blue, khaki, or black shorts with a white open-collar short-sleeved shirt, white ankle socks or long dark socks, and brown or black trainers. Girls wear a knee-length dark blue or black skirt, and a pale white blouse with a loosely hanging bow tie.
From high school on, the bow tie is dropped in favor of an open-necked pale blue shirt.
Thailand-style JK uniforms are very rare on the market. Basically, a white or pale blue blouse and a dark blue pleated skirt can help you to complete this outfit.
Skirts in JK Uniforms
There are two types of skirts in JK uniforms: solid color skirts and plaid skirts. Solid color skirts normally come in dark colors, while plaid skirts come with plaid patterns.
There are also two types of plaid patterns that appear on plaid skirts; one is the ready-made plaid, which is found almost everywhere on the market. An example is a Scottish plaid for Punk Lolita outfits, as shown below.
For Punk ready-made plaid Lolita skirts and other similar options, please click here to find more.
The other type of plaid pattern is the designer's plaid, which features a distinct color scheme based on the specific uniform style, as shown in the picture above. The design is unique and can only be used on authorized garments. Any unauthorized use is considered illegal.
Most of the JK uniforms on our website are plaid skirts created by designers working with a basic overall style. Every authorized JK plaid skirt is unique here!
To shop for authorized JK plaid skirts, please click here.
Conclusion
Today, JK uniforms still represent and symbolize the youth, purity, and vitality of the school years. Over time, people have gradually shifted away from the more traditional, solidified view of JK uniforms. JK uniforms are accepted and loved by more and more people each day, and the market has emerged accordingly.
To conclude, the appeal of these high school girls' uniforms is not merely the idea of "youth." The real reason for the popularity of JK uniforms is the innocence and simplicity that youth represents.