Kawaii arts or Kawaii illustrations are an important part of the cuteness in Japan's culture. Except for the most successful licensed character Hello Kitty or other kawaii Sanrio characters, there are still other kawaii illustrator's characters waiting for you to discover. Today, we will introduce you to a Japanese kawaii illustrator-Mikko, whose illustrations' characters are also very cute.

1. Who is Mikko?

Mikko is a famous illustrator from Japan.
After graduation, Mikko got a job in a design company. After quitting, she worked in a flower store. During this time she began to study and work as a freelance illustrator, portraying illustrations on the theme of the daily life of a young girl.
In her world, the life of any romantic, sexy, and cute lady looks like this: "fluffy hair, sprayed with her favorite perfume, wearing her favorite clothes".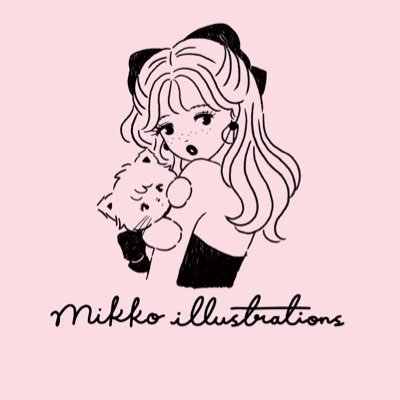 Twitter: mikko illustrations @hphpmikko
Official Website: https://www.mikkoillustrations.com/profile

2. The Concept of Mikko illustrations

Mikko illustrations themed with "portray the daily life of girls" and integrate popular trends of the moment.
Through her illustrations, she wants to spread excitement and happiness.

3. Mikko Characters

Mikko creates a nostalgic, glamorous, and slightly sexy girl with tousled hair and perfume. She has four fluffy animal friends living with her: Mousse(white kitten), Latte (brown cubs), Souffle (brown ear white puppy), and Cammy (white lop bunny).
Girl
Mousse - White Kitten
This is a kitten Mousse.
I want to be a cute and fashionable girl ♡.
The girl who lives with us is Moose's idol.
I always try to imitate her.
I love the latte that Latte-chan makes for me!
She tries her best, but she is a little clumsy and goofy.
She is shy.
Birthday: April 25
Latte —— Brown Cubs
This is a Cub Latte.
I'm good at making lattes.
I love sweets.
I often make sweets with the girl.
In the future, I would like to open a cafe.
She is a spoiled kid, but she tends to be strong-minded.
Birthday: June 9
Souffle —— Brown Ear White Puppy
This is a puppy Souffle.
Sleepy.......
I treasure a stuffed bear that the girl gave me.
He is always with me.
I love to take a nap.
He is calm and takes his own pace.
He is a pampered boy.
Birthday: December 14
Cammy —— White Lop Bunny
This is Cammy, a little rabbit.
I love fashion! I love shopping!
Ask Cammy if you need help with fashion!
Recently, I've been studying makeup!

She is everyone's idol.
She is positive and sociable.
just a wee bit devil!
Birthday: November 8
4. Mikko Collection

Here are some recommended collections on our site, which can help you create a casual but slightly sexy kawaii coordinate.
You can also click Mikko Collection to find more kawaii items with Mikko illustrations on our site.


Dress
Pleating Details Short Sleeves Lolita OP

Halter Neck Plaid Pattern Dress

Strawberry Print Sailor Collar Dress


Skirts
Strawberry Print Big Bow Cami Top + Strawberry Print Skirt
Pink Plaid Pattern Sweetheart-shaped Pockets Skirt


Kawaii Tops


Sleepwear
Pattern Top + Shorts Sleepwear Set


Kawaii Bags

Mousse/Cammy/Souffle/Latte Print Bag
Mousse/Cammy/Souffle/Latte Print Canvas Bag
Latte/Mousse/Souffle Crossbody Bag
Souffle/Latte/Mousse/Cammy Plush Bag
Plush Souffle/Mousse/Cammy/Latte Shaped Dolls


Keyring


Washi Tape & Stickers
Mousse&Cammy/Souffle&Latte Print Washi Tape

Mousse/Cammy/Souffle/Latte Print Waterproof Sticker


Sticker Notes & Postcards
Mousse&Cammy/Souffle&Latte Print Sticky Notes
Mousse/Cammy/Souffle/Latte Postcard


Makeup Tools

I hope that article can help you to know about the charm of Mikko illustrations. Those four fluffy animals are pure cute and the whole look of all the items above is hyper-girly! A kawaii item around can really make you a day. Get one of those now if you want them.
What's more, please leave a comment for us to know if you find other kawaii arts that you want to wear on you. Maybe you will see them on our site one day ; )