This is another blog focused on introducing new trends to anyone new to j-fashion. If you're a kawaii aesthetic lover, don't miss this article, in which you can have a basic knowledge of Jirai Kei(地雷系) - a currently trending "dark girly" fashion in TikTok.


What is Jirai Kei (Landmine Style)?

Jirai Kei is a currently trending j-fashion, which can be literally translated into "landmine type/style." It's a very cute, girly, and feminine fashion style but with a little bit dark aesthetic.
The key elements of a Jirai Kei outfit are mainly two things: the colors and the makeup.
Pink and black are the most popular and most common colors in Jirai Fashion. It also uses a lot of laces, ruffles, and frills, which are inspired by lolita fashion.

Certain j-fashions have specific makeup styles, and makeup is very heavily focused and a really important part of Jirai Fashion. People who love Jirai fashion would say you can be considered Jirai Kei as long as you wear specific big eyes makeup.


Jirai Joshi(Landmine Girls) - The origin of Jirai Kei

To understand Jirai Fashion better, we should first understand what is Jirai Joshi and how Jirai Kei developed.

Birthplace - Kabukicho

It's clear that the name "Jirai Joshi (landmine girls)" is the reason for the existence of Jirai fashion and makeup in the first place. So we can say that Jirai Kei is derived from "jirai Joshi(地雷女)". The term "Jirai Joshi (landmine girls)" is often used by Japanese men's magazines to talk about the types of women they thought were "too psycho to get involved with".
These girls often gather in Kabukicho(歌舞伎町) and Harajuku(原宿), wearing black and pink, looking cute but mentally unstable. Jirai girls are easily triggered, just like landmines can go off at any time, that's why they are called "Jirai girls (landmine girls)." So, this style of fashion and makeup these girls wear is called Jirai Kei.
In brief, Jirai Kei started with adult fashion. However, if you see a Jirai Kei outfit you will never think in your head that this cute fashion was born out of nightlife. And Jirai Kei/Fashion is actually now becoming more popular with young girls rather than mature bar girls.
*Where is Kabukicho(歌舞伎町) ?
It's an entertainment district in Shinjuku, Tokyo, Japan.
It's the location of many host and hostess clubs, love hotels, shops, restaurants, and nightclubs, and is often called the "sleepless town" (眠らない街, Nemuranai Machi).
*The origin of Jirai Kei
"There's this gang known as the Toyoko Kids who've been occupying Kabukicho for years, and many of the members have been wearing Yami Kawaii fashion, j-punk, and most popularly sweet and dark girly kei since long before the Jirai Kei. They are often credited with the reason for those styles' associations with the landmine stereotype.
Most of the members range from 9-24 years old and are home runaways who don't attend school. They've been connected to numerous stabbings and lynchings, group suicides, underage drinking, drug rings, child prostitution rings, thefts, and many members have died or been hospitalized as a result. "
Gain Popularity - LARME magazine

Larme magazine, which is considered a sweet cute girl's fashion picture book for 18~25 young women, primarily posts sweet, retro, and mature fashion substyles, these are what the western community recognizes as "Larme Kei".
Because of LARME magazine, Jirai Fashion start to gain super popularity around 2020.
LARME Magazine - The Deveolpment of Jirai Kei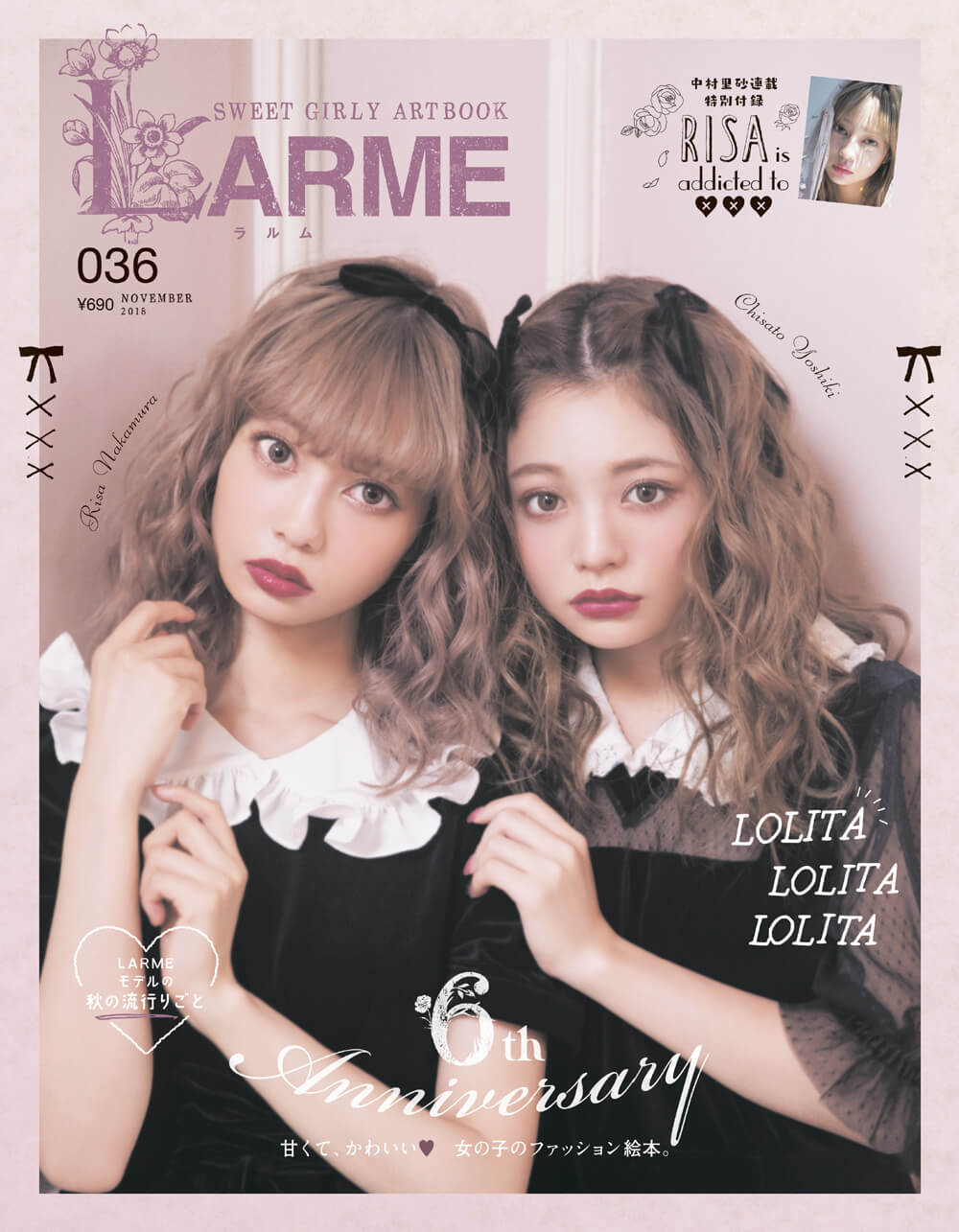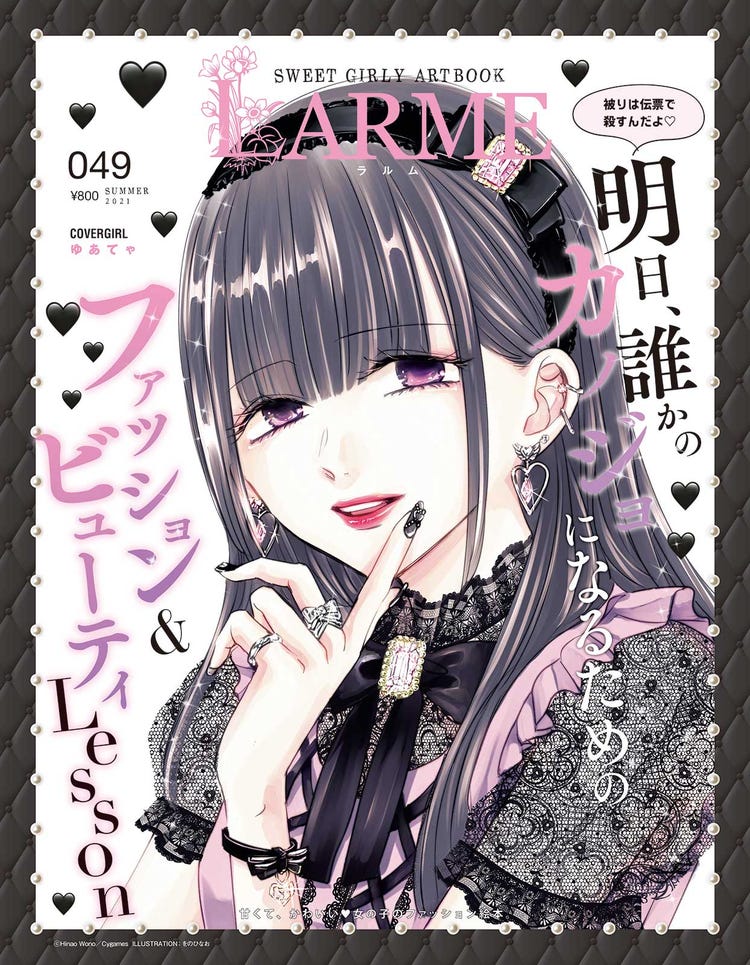 Jirai Joshi (Landmine Girls) - Cute and Dangerous Girls

Jirai Kei or Jirai Fashion is just the clothes and makeup we wear. Before the popularity of Jirai Kei, a similar dress was generally known as "dark girly", "bittersweet" or sometimes "Yami kawaii", but through the spread of otaku culture, Jirai Kei slowly separated from Menhera and other dark and cute fashion styles. Now it refers to a fashion or makeup that imitates Jirai Joshi(landmine girls).
So what're the characteristics of a Jirai Joshi? In fact, to put it crudely, a Jirai girl is a girl who is cute in appearance but has an aggressive and loveless personality. Jirai Joshi can literally be translated to "landmine girls", which means those girls are like landmines that can go off at any minute, they are very mentally unstable, and can be easily triggered.
"Needy Girl Overdose", Ame-chan

The main character of the recently hot game "Needy Girl Overdose", Ame-chan, is a Jirai Joshi (landmine girl), and she wears a typical Jirai Kei outfit.


Ryousangata (量産型) v.s. Jirai Kei (地雷系)

Ryousangata Joshi (massive-production girls)

Ryousangata (量産型) means "mass-production style", which mainly refers to a fashion style. It was named because girls who pursue fashion all dress the same, which makes them look mass-produced (ryousangata).
At first, the word was invented to ridicule fashionable and stylish college girls in fashionable clothes. Now Ryousangata Joshi (りょうさんがたじょし, massive-production girls) has somehow become a synonym for idol otaku. By 2021, the term "mass-produced girls" are also known as "mass-produced otaku girls".
Mass-produced girls can become a phenomenon. It's not just because teenage girls think similar makeup and hair look good.
Mass-produced girls love lace, ribbon, pink and light-colored fashion, especially dresses that exude sweetness. They commonly believe that such sweet dresses can bring a princess-like feeling.

Difference Between Raousangata and Jirai Kei

Raousangata(mass-production style) is often mentioned together with Jirai Kei because both of them like to use Sanrio elements and very girly elements like laces, ruffles, frills, and so on.
Ryousangata clothes can become Jirai kei by changing color.
The difference between Ryousangata Joshi(massive-production girls) and Jirai Joshi(landmine girls) is that Ryousangata girls try to make their idols think they are cute while Jirai girls try to make themselves feel cute.


The misconception of Jirai Kei

Jirai Fashion ≠ Menhera

Whether Jirai Kei or a Menhera, they are simply a tag and don't refer to any mental disorder.
The personality traits of a typical landmine girl and menhera are highly overlapping, both are mentally unstable. However, the clothing styles of both are very different.
*What is Menhera (メンヘラ)?
Menhera is a Japanese slang term, referring to people who are suffering from mental illness or are in need of mental health care.
It literally means " mental health-er".

Can anyone wear Jirai Kei?

Absolutely yes! Jirai Kei is just the clothes or this "landmine girl type" makeup.
Those terms can only be used when you want to find more creators. For example, you can find more western creators under the tag #Landmine Girl# and more Japanese creators under #Jirai Kei#.
In Japan, a girl who looks cute, cares about people, and likes Kuromi but is easily hysterical may be considered a landmine girl. But now it became more popular from the aspect of fashion. So please be free to try this fashion as long as you feel good.


Substyles of Jirai Kei

This Jirai Kei also has its substyles: Jirai Kei(traditional), Subculture Jirai(tomboy), and Jirai Danshi(boy style)
The traditional Jirai Kei, as we mentioned above, loves pink and black colors and tends to be very girly and feminine but with slightly dark elements. It can be described as "classy", "preppy", "dark but cute", etc.
Jirai Kei (traditional)

For Subculture Jirai, oversized T-shirts that reach a little below the thigh area are used to create a punkish and tomboy look.
Subculture Jirai (tomboy) - oversized T-shirts

Jirai Dashi(地雷男) means "Landmine Boys", just like Jirai Joshi(Landmine girls) it refers to a type of man who has a high tendency to have violent emotional breakdowns.
Jirai Danshi (boy style)


How to Build up a Jirai Kei Outfit

Tip 1: Mix Pinks with Blacks

The combination of black and pink is very common in Jirai Kei, and lavender or purple is also frequently used with blacks.
For the details of clothes, lace, ruffles, and frills are indispensable, which can create a good feminine atmosphere.
Pinks and Blacks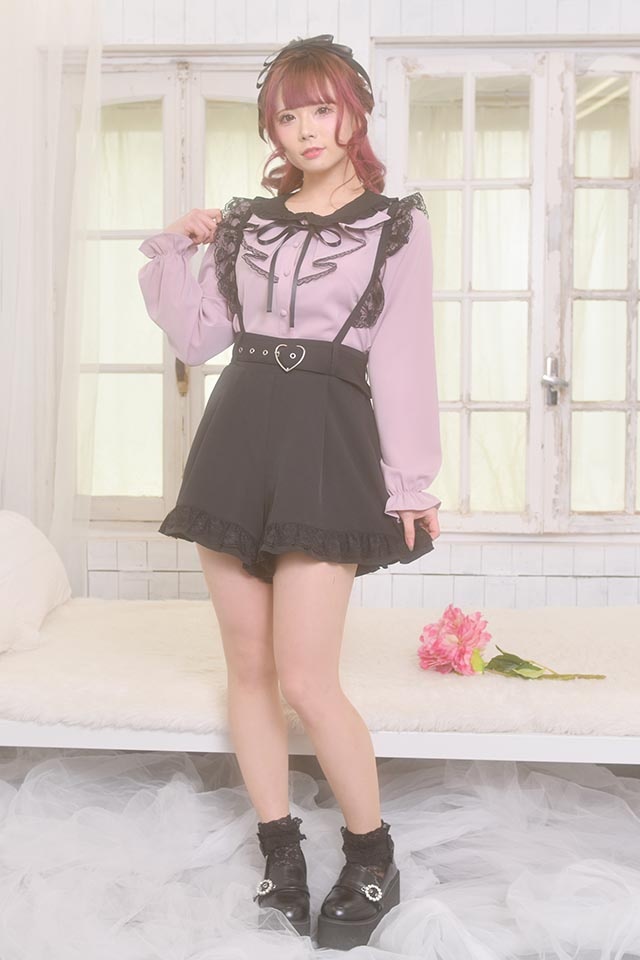 Other Jirai Kei Coordinate


You can click Yami Kawaii to find more Jirai Kei clothes on our site.

Tip 2: Use "Big Eye" Makeup Skills

The key to the Jirai Kei Makeup is to create a very droopy eye, which will make the overall makeup look pitiful.
The characteristics of this makeup are that the area around the eyes is red and swollen, giving the appearance of having been crying.
The hairstyle is mainly twin tails, and hair accessories with Sanrio elements would be perfect.

Jirai Kei Makeup - The "Pien (ぴえん) " Face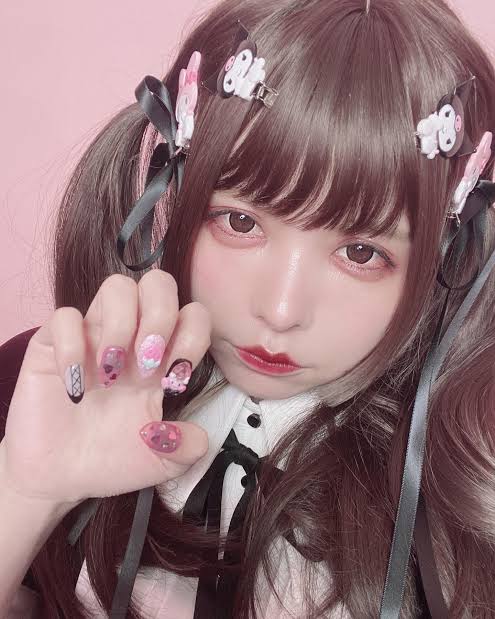 Tip 3: Girly Nails & Jewelry

Long nails are also a good way to show your femininity, and you can also put extra kawaii stuff on your nails to add a touch of cuteness.
For jewelry, silver is better than gold and a lot of sparkles are also very good as long as they can bring elegance.
Here are some girly bows you can find on our site. It would be great to pair with your frilly white blouses and black (or pink) suspender skirts
| | | |
| --- | --- | --- |
| $6.80 | $5.80 | $9.00 |
| $7.00 | $7.00 | $9.00 |
| $9.00 | $9.90 | $4.80 |
Tip 4: Black Platform Shoes are Must-haves

The double buckle platform shoes are one of the most popular platform shoe choices for a Jirai Kei outfit.
| | | |
| --- | --- | --- |
| $49.00 | $42.00 | $36.89 |
| $49.00 | $56.00 | $54.00 |
| $59.99 | $56.50 | $48.00 |

You can click Platforms to find platform shoes in different styles on our site.

To sum up, Jirai Kei is just a fashion style we can wear and an aesthetic first started with adult fashion. Knowing the stories behind it doesn't do any harm and can help you better understand this dark and girly fashion.
Please feel free to leave a comment about what you think about this currently trending fashion.