As we all know, Lolita Fashion originated from Japanese culture, so do the Fairy Kei, Harajuku Kei, Mori Girl Kei, Decora Kei, Visual Kei, Gyaru Kei, Shibuya Kei, and so on.
If you are new to Japanese Fashion, you must be very confused by the word "Kei". Kei in Japanese means styles or groups. If you are still confused, just replace this word with fashion for a better understanding.
We are going to dive deep into Decora Kei, AKA Decora Fashion, in today's blog.
The name "Decora (デコラ)" comes from the word "decorative," and like most street fashion styles, it is now considered one of the Japanese subcultures/aesthetics.
The key to Decora is its excessive amount of decoration. It likes the staple of Decora Kei, which makes it stand out from other styles. As a result, Decora is basically decorating yourself from head to toe into a cute Christmas tress of some sort. Putting on many layers of pink clothing and cheap-looking accessories is always a big part of it.
This kind of Japanese street fashion first originated in the Harajuku(原宿) district of Shibuya(涩谷), Tokyo(东京). Harajuku is most known for its eccentric street fashion culture, hence the term Harajuku fashion.
Harajuku street fashion started around the 1970s. Harajuku gradually started becoming the place that people know it for when fashion stores started popping up in that area. Harajuku fashion derives from Japanese teen culture, and it, in turn, supports the development of teen culture and becomes a symbol of rebel, outrageous spirits.
Harajuku girls gathering at Harajuku Station: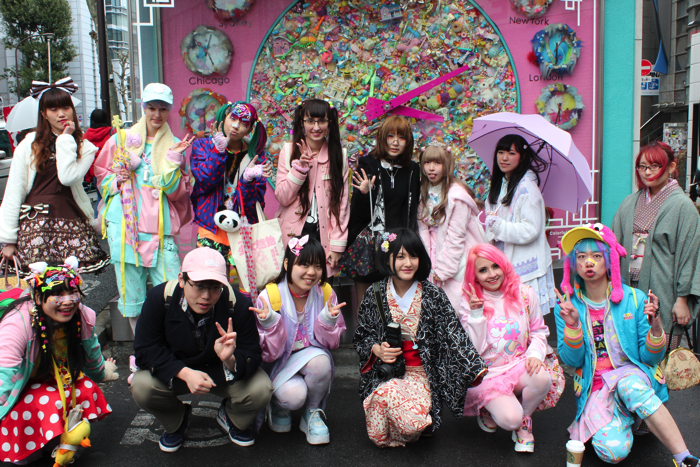 As the image above shows, you can see girls wearing Harajuku Fashion like Lolita fashion, Decora Kei, Kimono Kei, and other Kawaii Kei on the street there. You might find some of those fashion styles quite unusual, but they have many dedicated followers out there that think of it as a passion – a lifestyle even. One of the most eye-catching street fashion styles is Decora.
Decora is inspired by cartoon characters from the 1980s. It first gained recognition in the Japanese fashion magazine FRUiT. As a result, it is also known as"Fruit-style". Teens at that time used this kind of youth street fashion to break order and discipline and make life more fun and livable for them.
Decora Girls on FRUit Magazine Cover:
It's said that Decora Kei originated from the Japanese pop idol, Tomoe Shinohara(篠原ともえ). She hosted some television shows and sang hit songs wearing fluffy petticoats and knee-high colored boots, which make it popular in the mid-90s among teens. She became the famous 1990s decora-style icon, and even now many Decora girls will imitate her decora style.
Japanese singer Tomoe Shinohara:
A Decora Girl Holding A Tomoe Shinohara Doll:
Decora Fashion's colors are usually in shades of pink because it gives out a child-like and girly aura. Neon colors are also often worn by Decora girls. Essentially, the dress code for Decora is layers and bright colors! It's all about the mishmash of varieties of colors and textures.
The staple outfits of Deocra Fashion include a plain long-sleeved shirt, sweatshirt, or hoodie, a cardigan, a baby-doll dress/tutus/tulle skirt, and layers of colorful clothing items like stockings, legwear, arm wear, and knee-high socks. As for their shoes, they usually wear Mary Jane shoes, sneakers, high-tops, or Dr. Martens boots!
Tops may have many prints, such as colorful prints, heart prints, and many other prints inspired by cartoon characters like Strawberry Shortcake, Hello Kitty, Care Bears, The Smurfs, SpongeBob SquarePants, The Powerful Girls, Doraemon, Rilakkuma, Pokemon, Cardcaptor Sakura, Sailor Moon, Sanrio characters like Melody, Cinnamoroll, and so on.
80s Cartoon Characters:
Today's Popular Cartoon Characters:
Decora Girls with Rilakkuma Face Stickers, SpongeBob SquarePants T-shirts:
As you can see from the picture below, the hair colors are usually unnatural, they could be dyed pink, reddish-brown, or bright green. Putting on crazy amounts of colorful hair clips on their hair bangs is also an important part!
Decora girls usually wear minimal make-up and only put some colorful face stickers like crystals, hearts, and cute stars under their eyes or on their cheeks to match their clothing. The cartoonish band-aid across the bridge of their nose is the key point to complete the whole make-up.

Decora Girls' hairstyles and make-up:
You will always see lots of childlike accessories in Decora Kei. Such as plastic rings on the fingers, and tons of plastic or glass bracelets as shown below. The amounts are always crazy!
Plastic Cartoonish Rings, Bracelets, Plastic chains ...
There are primarily four subtypes of Decora.
Casual Decora is known for the most color use and has more similarities to the original decora compared to the others. There is no definite rule for the outfit's color and design; the only thing to keep in mind is to not overdo it and to stay away from darker and dull colors.
The choices of attires can include school uniforms, sweaters, t-shirts, shorts with or without skirts, and skirts in more varied colors/ designs and shapes.
It is perfect for a beginner to get started since it focuses less on layers and excessive amounts of accessories.
Casual Decora:
Pink Decora uses mainly pink, as the name suggests. Pink decora consists of outfits that either are entirely made up of pink items, or focus very heavily on pink color schemes with small accents of other colors. The original pink decora focused on bright pink or hot pink coordinates. Earlier coordinates also were more likely to be completely pink.
Pink Decora:
Dark Decora (also known as Black Decora, Kuro Decora, Punk Decora) is nearly visually identical to Decora, but with the obvious exclusion of the bright colors. Dark decora coordinates have a darker color scheme. Generally, blacks, reds, and whites are the main colors used. However, hints of white, purple, green, or pink can also sometimes be seen.
Dark Decora/Black Decora:
The accessories used in Dark Decora often lean towards skulls, gothic motifs, punk t-shirts, or studded necklaces and headbands. Sometimes, it can incorporate classic things of original decora such as tutus and cute knee socks, amongst other things. Cartoon characters like Gloomy Bear, Kuromi, and Badtz-Maru are very popular among dark decora; brand t-shirts with those characters or other accessories with those characters' prints, Leopard patterns, and checked patterns are also often used.
For Authorized Sanrio Characters Garments, please click here to find more on our websites.
Decora Lolita a mixup with Sweet Lolita and Decora. Both styles are very well known in Harajuku, and there is no surprise that these two mixed up at some point. Decora Lolita follows the guidelines of Sweet Lolita but with all the accessorizing and childish touches of Decora. It has bright colors, small hats or hairbows, smaller hair clips adorned in poofier, curly hair, jewelry, and prints of cartoon characters.
Decora Lolita:
Today, the decorating trend is still popular in Japan as a Kawaii subculture.
Decoden (デコデン) is a term from the Japanese language and it means to decorate a mobile case! The first series of decoden are generally decorated with crystals & rhinestones and they call it a "bling-bling case".
"Bling-bling" Decoden Phone Case:
Today, decoden whip cream is a popular selection other than crystals & rhinestones. The whipped cream clay in beautiful translucent jelly color below is a fake icing/frosting for phone case decoden to make fake food, or kawaii sweets jewelry craft.
Deocen Whip Cream:
At first, decoden was applied specifically to cell phones and cell phone cases. As its popularity grew, however, decoden spread to encompass portable gaming systems, digital cameras, tablets, flash drives, picture frames, and even fingernails. Decoden has evolved to include different types of design/styles and materials! Today, it can refer to anything over-the-top decorated with cabochons. It's an important part of Japan's Kawaii (cute) culture.
Laptop, Mouse, Mirror, Cameras, Nails with Decoden:
In sum, decora is all about freedom of expression! Even though it is extreme and childish, it's all about celebrating who you are and not being afraid of expressing ourselves. That's why girls are very into this playful and childlike style recently.
What do you think about this youth street fashion? Do you want to try this coordination one day? Tell us by leaving a comment. Believe me, you will feel inspired to try it for its girly aura and creativity!